At Red Goat, we strive to bring simplicity to the workflow in your foodservice environment.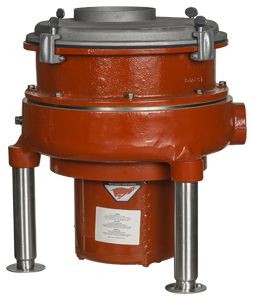 For nearly 50 years, Red Goat Disposers have been a trusted name within foodservice environments across the United States and at sea. Founded in Cincinnati during the era of The Big Red Machine—the nickname given to the Cincinnati Reds baseball team as they dominated the National League in the 1970s—Red Goat Disposers paid homage to the team's dynasty with a coat of bright red paint as the finishing touch on every disposer assembled and sold. Coupled with the idea that a goat—by nature—will eat anything, the Red Goat disposer brand was born.
Red Goat has built a reputation of dependable performance through consistent, reliable products that bring simplicity to a kitchen's workflow. Manufactured in Lancaster, Pennsylvania, Red Goat food waste disposers are designed and engineered to withstand the roughest environments. When you need high-performing, reliable food waste management, turn to Red Goat—where quality is our priority.
Experience the Red Goat Difference.
Your disposer should be designed to match the specific needs of your operation: waste volume, type of wash and peak load periods are important factors in rotor/turntable and motor size selection. Red Goat provides trouble-free waste removal day-after-day, year-after-year. Experience the Red Goat Difference today:
Heavy-duty construction
Easy install and service
Stainless steel legs and feet, adjustable from 0" to 2"
Bolt-on reversible impact bars for extended life on wearing parts (A-, C- and F-Series)
Large 7" throat opening for faster feeding (A-, B- and C-Series) Optional 4-1/2" opening for A-Series
Heavy-duty, dual voltage motors from ½ HP to 10 HP
Thermal overload protection with manual reset button located on motor (A-, B- and F-Series)
Access to waste chamber via cast aluminum lid with a 7" diameter throat opening; quick-release head clamps for easy removal (B- and C-Series)
Mechanical seals to eliminate seal failures (A-, C- and F-Series)
Triple lip seal (B-Series)
Control panels to meet any specification.
Let our knowledgeable sales staff recommend the perfect food waste disposer for your operation based on your unique needs. Call us today at 800-237-6628.